Noverse is very pleased to announce that TimeToCall v1.0 has shipped and can be downloaded on the App Store.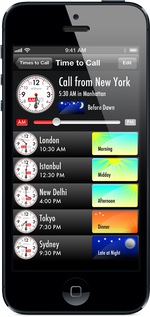 TimeToCall is a universal iPhone and iPad application to help you choose the best time to call people in other countries based on timezones.
Over 4000 locations to choose from
Multiple Times to Call to lots of places
Choose a Time to Call from different places
Get a feel for when they are awake or asleep
Play with Time to find the best Time to Call
Available in Japanese as そっちは何時
Universal: iPhone or iPad (iOS 5.1 required)
Download it now from the App Store on your iPhone or iPad.
Read all about how the app was created in a series of articles on the thinking, effort and decisions that went into the making this iOS app.
We want to thank all our beta testers for testing TimeToCall and helping us make such a great product.
If you have any questions about the product or the series of articles, please do not hesitate to email us at contact@noverse.com.
Noverse LLC is a New York independent software designer and developer, established in 2010 by Hilton Lipschitz (@hiltmon) to craft brilliant web, iOS and Macintosh software. If you are looking for someone to craft a product as well thought out as TimeToCall, feel free to contact me at contact@noverse.com.